Day 1 – Arrival
Our 2 week trip to the rockies started out with a pretty 'rocky' plane ride. We had a short prop plane from Boston to Toronto, followed by a connecting flight to Calgary. We got on a brand new Boeing 787 Dreamliner in Toronto, which is probably one of the nicest planes I've ever been on. It was huge, with a high ceiling, auto dimming windows, and a pretty awesome multimedia station with tons of games and movies. We were all remarking at how awesome the plane was as we started to push back and then stopped. The pilot proceeded to tell us that the AC unit was broken and needed to be repaired. They kept us on the plane for 3 hours in excruciating heat, while the AC was being fixed. It was absolute torture. The plane was so hot that it had a hard time cooling down even after the AC was repaired. It wasn't until about 30-60 mins into the flight that we were back to a normal temp. Thankfully the kids did great with all the electronics and it didn't seem to bother them. Once we landed we got our bags, the rental car, and then drove the 2 hours to Banff.
Day 2 – Settling in
The next morning we went out to breakfast and stocked up on supplies at the grocery (and liquor) stores. Downtown Banff has awesome mountain views all around it.
We got to see a lot of wildlife on the short drive between our hotel and the downtown area.
We had a pretty good view from our hotel balcony as well. The hotel had 2 indoor waterslides and indoor/outdoor hot tubs which were a big hit with the kids.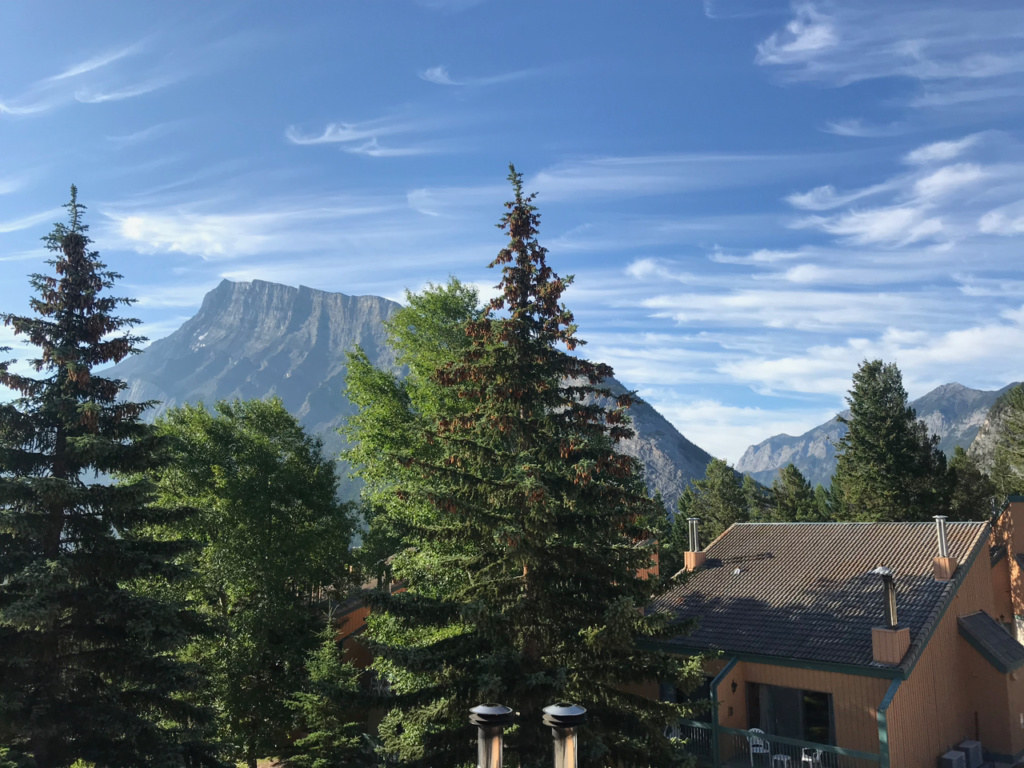 In the afternoon we went to Johnson Lake, which is nearby downtown Banff. The lake had beautiful mountain views and wasn't that busy. We walked around the lake and soaked in the views. After that we went out to dinner and had some ice cream. Also, I got some bear spray, which was highly recommended everywhere.
Day 3 – Lake Louise and Lake Morraine
We had some good weather in the forecast so planned on doing the areas top tourist attractions, Lake Louise and Lake Morraine. These two lakes have some of the most stunning views in all the Canadian Rockies (world?) with jagged peaks and torqoise glacier fed waters.
Unfortunately these beautiful sites come with crowds, lots of them.
We got an early start and made it to the Lake Louise parking lot around 8am (it's like an hour drive from Banff). The place was already full and so we had to drive back a ways to the overflow parking. Then we had to wait in this insanely long line to purchase tickets for a shuttle bus to take us to where we just were. Kids don't like waiting in lines. Once we finally got to Lake Louise we had to immediately get in another line to buy a ticket for a shuttle to Lake Morraine, because they sell out for the day quickly. Overall this experience was extremely frustrated with the kids, and felt more like Disney than the outdoors.
Besides dealing with all of the massive crowds and lines, the views were simply stunning! We spent the day just walking around and had lunch at the Chateau (the big hotel at the base of Lake Louise). Afterwards we drove back to the hotel and went into town for dinner, and of course more ice cream.
Day 4 – Bow River and Canmore
MORE COMING SOON!!