Our ski weekends continue…  This past weekend we were back to Bretton Woods.  On Saturday the temp was literally 70 degrees, which was just nuts.  The boys had been up since Thursday night, so we decided to take the day off from Skiing.
Instead we went to Polly's Pancake Parlor (our favorite breakfast spot in the area).  The boys had a blast putting every type of maple spread possible on their pancakes.  If that wasn't indulgent enough, we then took them to Chutter's candy store in Littleton immediately afterwards.  The boys love having their own dedicated bag of candy and getting to choose from the several hundred options.
After mass sugar consumption we took a couple walks outside.  Our ice rink (that I worked so hard to shovel the previous weekend) was now fading away into the Lake.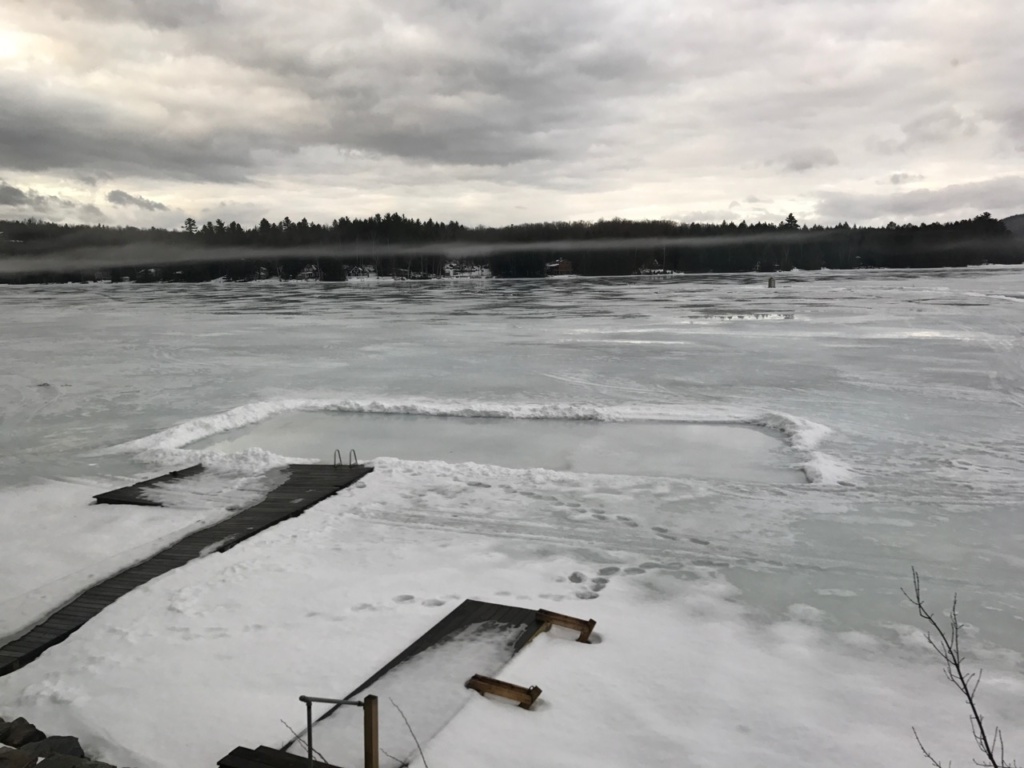 After the boys took a nap we played some board games, had a nice dinner, watched a movie, then put the kids to bed.
At that point an insane weather front moved through causing a massive temperature drop from 70->20 degrees, and brought with it some intense wind.  We lost power and didn't get it back until the morning.
On Sunday we got up early and headed out skiing!  The mountain was completely empty, we had the whole place to ourselves.  Surprisingly the conditions were pretty decent, with the trail receiving a couple fresh inches the night before.
Below is one of our favorite spots, from the top of west mountain:

Overall another fun weekend spent with the family!